Holy Warriors
---
Sunday Times Travel Book of the Year, 2009.
Nominated for India's Ramnath Goenka's Excellence in Journalism Best Book Award.
Finalist for international Index on Censorship best book prize in 2008
Finalist for India's Vodafone Crossword literary prize in 2008
---
Holy Warriors
---
Home to the world's greatest religions, India is host to every type of fanatics. No other nation has heard as many war cries in the name of God as India. For centuries, at times Hindus, Muslims, Christians and Sikhs have waged bloody wars, sought violent conversion and declared jihad against their enemies. Holy Warriors takes the reader into India's past and present theatres of religious conflict to meet the generals and foot soldiers of these holy wars. Here is evidence that every religion can be hijacked by the forces of fundamentalism.
The journey takes the reader from Kashmir to Kerala, from the Punjab to Goa, reporting on the frontlines of these tensions. Meet Hinduism's saffron warriors inspired by Nazi doctrine and the Sikh extremists who seek a Land of the Pure. Enter the notorious madrassa that is the spiritual birthplace of the Taliban and then into Nagaland, land of former headhunter tribes who seek a separatist Christian state.
EF, London, January 2018. Available for interviews on her books.
Edna is also available for talks, consultancy, film and writing projects.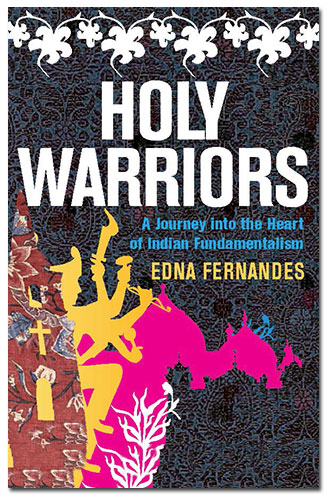 Impressively researched and lucidly written… Anyone interested in the complex appeal of religious extremism should read it.
Pankaj Mishra
Best Books of the Decade on Asia